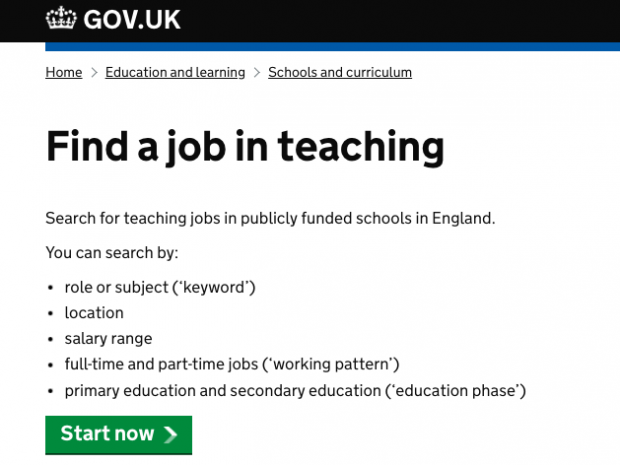 All publicly-funded schools in England can now use the new Teaching Vacancies service to list teaching roles free of charge. It's a job search tool for people looking for their next teaching role.
Teachers and schools needed something new
Research showed that schools in England spend up to £75 million each year on advertising teaching vacancies. Jobseekers had to use various websites to search for their next teaching role. This was expensive for schools and time-consuming for teachers.
The two sets of user needs we identified were:
schools needed a straightforward and free service to list vacancies
jobseekers needed a place to search for teaching roles nationwide
List and apply for teaching jobs easily
The Teaching Vacancies service was designed to meet both sets of user needs. Schools can now:
list a teaching vacancy, free of charge on an official government platform
benefit from national exposure through the national marketing campaign which targets teachers
benefit from their vacancies being listed and shared across other websites - this increases visibility and reach
And jobseekers can:
use an official government service and trusted source to apply for teaching jobs (the DfE does not share personal data with third parties)
avoid having to search for teaching jobs across several websites and platforms
filter job listings using lots of different criteria, including closing date, minimum salary, subject keyword and working pattern
get more information about a specific role
sign-up for email job alerts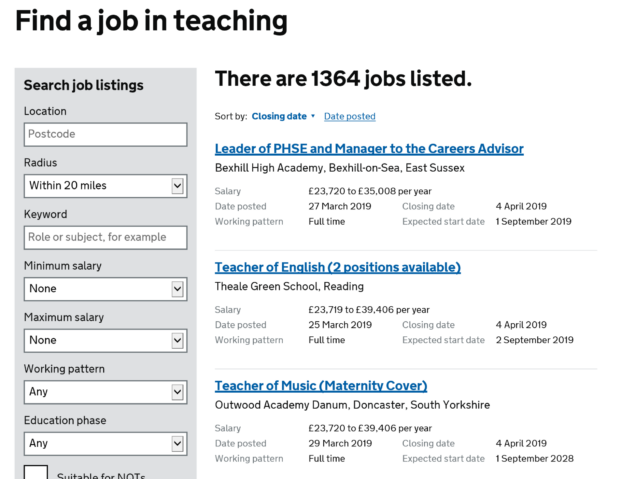 Schools are signing up
We have sent all publicly funded schools in England an invitation to sign up. So far over 8,000 schools are using the service and more than 1,000 jobs are listed on the service webpages.
The map below shows the percentage of schools that have signed up to use the service. So far in Cambridgeshire 100% of schools have signed up. The East of England are following behind with over 50% of schools signed up.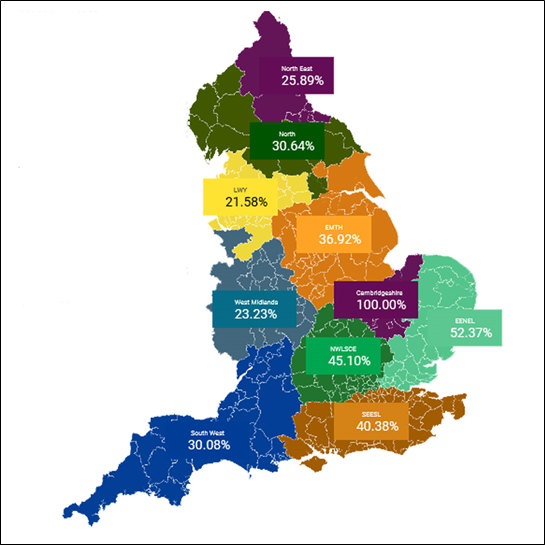 Promoting the Teaching Vacancies service
To make sure teachers looking for their next role know about this service we're using a range of online marketing tools and channels including Google search and social media. And we're sharing materials with schools as well as going to any relevant events across the country to speak with our end users.

Teachers are giving us great feedback
Like all user-centred services, it's important we constantly seek feedback from users so we can keep iterating and improving the service. Comments so far include:
"It's the best ever service that I've found. But I wasn't aware about this service before, It's much better than the other well-known websites out there. And it's got over 900 jobs, it's a lot. Now I feel confident and knowledgeable about this website so know I can begin searching on the website. I will tell my friends that are looking for teaching roles about this service. Well done for this."
We need your help
Help us spread the word about the Teaching Vacancies service.
If you know of anyone looking for a teaching role, tell them to search on Teaching Vacancies.
And if you're hiring teachers, create your account and then as soon as you receive your invitation you can list your teaching role.
Follow us on Twitter and subscribe here for alerts to this blog.