https://dfedigital.blog.gov.uk/making-dfe-digital-more-equitable/
Making DfE Digital Data and Technology more equitable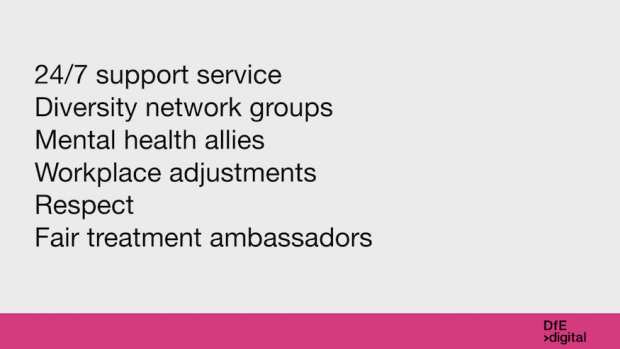 The Civil Service is committed to becoming the most inclusive employer by 2023. It embraces diversity and promotes equal opportunities.
A fully representative workforce means we can develop policies that make opportunities equal for children and young people.
In our DfE Digital, Data and Technology (DDaT) teams we want everyone to bring their whole self to work and be a place where honesty, challenge and innovation are encouraged and valued.
What we are doing
Inclusion and diversity is not a nice-to-have – it's a necessity for organisational resilience, adaptability and flexibility. But it doesn't happen without paying careful attention to your culture, your talent pool and systemic – probably unconscious – bias.
It starts with having open and honest conversations about our own prejudice and how we need to change. Leaders have a critical role in building an equitable environment in which everyone can thrive.
We're continually improving our hiring process to make it fairer
For many people the recruitment experience will be their first interaction with DfE Digital, Data and Technology. We want people's experience to be as fair and inclusive from the outset. Therefore it's crucial that we continually test and improve how we hire to remove the possibility of bias and discrimination against people on the grounds of their:
age
disability
gender reassignment
marriage and civil partnership
pregnancy and maternity
race
religion or belief
sex
sexual orientation
Find out more about what we're doing to make our recruitment as fair as possible.
How well are we doing?
We've been ranked as silver in Mind's Wellbeing index.
We're one of the top 100 employers who've signed up to the Race at work charter.
Carers UK awarded us an accreditation.
We've signed the Diversity Charter and in doing so encourage our speakers to only attend events that have diverse panels.
Related content you may find useful
What we are doing to increase equity in the GDS design team
Black lives are at stake and here's what you can do to help
What we're doing to support black colleagues and address racism
Get in touch