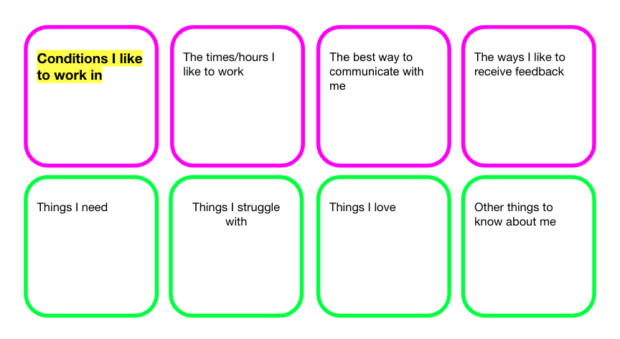 Do you work in an organisation with a digital department, team or division? Do non-digital colleagues look at you as though you're speaking a made-up language?
This is a challenge I've experienced several times. Especially when I bring user researchers and designers together with other professions for the first time. Not everyone understands, or is familiar with, digital and agile terminology.
Recently I blogged about how our design sprint had brought together experts from digital and non-digital fields. Both groups speak in jargon-heavy language, so they have a tendency to stick with colleagues in their profession with whom they feel more comfortable and better understood. This creates siloed working.
Manual for me
We wanted to break down silos and the language barrier so we started by creating a 'Manual for Me' each.
Manuals show what makes a person engaged and excited at work, and what puts them off.
I felt it was important for us all to be open about our styles and personalities–this would give us a better idea of how to work with each other, and how to get the best out of the team.
Rephrase again and again
Next, with our manuals in mind, we ran a number of collaborative sessions in which we discussed and critiqued each other's ideas and approaches. We did this in an objective, non-judgemental way.
Each session helped us understand what was important to people and why, and how their professional discipline framed the way they looked at a problem. By continually rephrasing different points, team members started to better understand each others' perspectives.
As well as the sprint being a superb way of getting the commercial specialists excited about, and involved in, user-centred design, it was also a brilliant way for designers to fully understand how the commercial aspects will impact their service prototype.
By working face to face on a number of tasks during the week, the team's appreciation and understanding of each other's roles, style and language deepened. We built a rapport, bridged the language gap, and designed a prototype.
It sounds simple, but all of us now recognise the importance of speaking and writing in plain English. As the saying goes - it's not dumbing down, it's opening up. I think this is so important for developing an organisation's potential for user-centred design.