Is it over yet?
I'm sure that's what most of us are thinking when it comes to 2020. We're living through extraordinary COVID times.
The most vulnerable members of our society have been the hardest hit; elderly people, those in care, vulnerable children and millions of front-line workers who have provided dedicated care and support to those most in need.
Personally, I end the year feeling incredibly grateful for the health of my family and loved ones; the privilege of still having a job; and getting to work alongside colleagues motivated to do what it takes to help make a difference.
A colleague of mine refers to this strange world we are operating in as 'COVID land'.
It's a place where time is elastic: where things that might have previously taken months are delivered in days; where the boundary between home and work life is blurred beyond recognition (are we working from home, or living at work?); and where the phrase 'you're on mute' has become all too familiar.
As much as I am able to offer any clear reflections on the year, here are a few:
Service delivery – inside and out
At the beginning of the pandemic, several people – and several whole teams – pivoted into new roles. The focus was on running our business-critical systems, as well as supporting urgent new services helping vulnerable children and learners.
Seven thousand members of staff switched to working at home overnight, without a single day of business interruption.
We spun up the 'Get help with technology' team which is on track to deliver half a million laptops to children and learners this year, as well as over 50,000 4G routers to provide access to the internet.
We've also delivered new curriculum support tools and content to help teachers across the country access remote education.
This hard work didn't go unnoticed. Rachel Hope, Deputy director for Teacher services, won the DfE inspirational leader of the year award for leading the Get help with tech programme alongside her Teacher services role.
Both divisions are exemplary multidisciplinary policy and delivery teams and should be incredibly proud of what they are doing.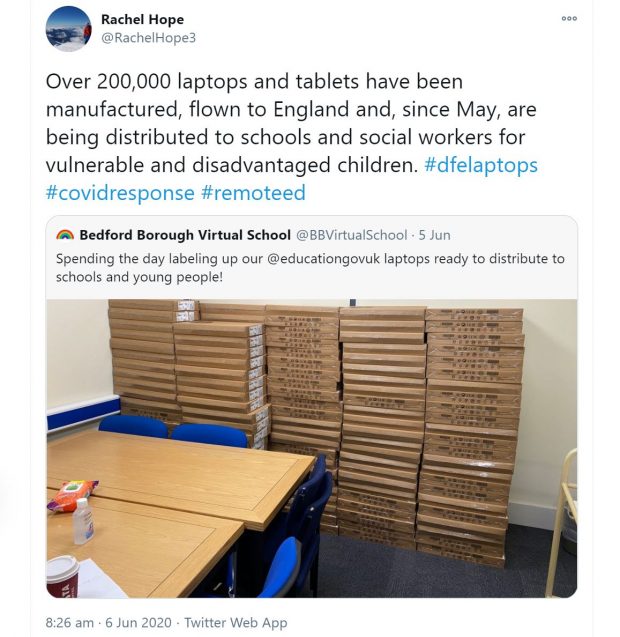 I'm hugely grateful to everyone who dedicated long hours and weekends to helping us do this as quickly and effectively as we possibly could; and all those who supported their colleagues with the kindness and compassion that has been a prerequisite for surviving long hours on video calls, endless back-to-back meetings and the need to move fast.
The fact that we've been able to respond so effectively is also thanks to the investment we put into building our in-house digital and technology expertise over previous years.
When we are faced by enormous challenges like we have done this year, the quiet, persistent work of previous years growing our technical systems and our digital capability really pays off.
The dedication of my colleagues has reaffirmed my own commitment to the civil service and shown the strength of what can be achieved when people and their skills are aligned to purpose and motivation. People have achieved extraordinary things.
Mental and physical wellbeing
I know I'm not alone in feeling that some days this year have been really tough.
Juggling family life, the need for a rapid response, home tutoring my children, dogs barking, trying to support fraught colleagues, leading meetings over the kids' trumpet practice, and coping with worried elderly parents - all whilst trying to display some confidence and calmness. Well, there were days when it all felt overwhelming.
I was revisited by my old friend, anxiety. I sometimes felt riddled with fear, tense, restless and unable to concentrate. My coping strategy has always been to talk to my colleagues. Somehow by voicing and sharing my feelings, the grip of them lessens.
This time I spoke to my boss who listened generously and insisted I take some days off. I gave up alcohol for three months, went back to yoga online, downloaded the Calm app and tried to find at least 10 minutes a day to sit still and listen to gentle voices. This really helped.
One of the best things about working in Digital and Technology is the trust and openness of our culture, in which people braver than I regularly share their vulnerabilities. In doing so, they make it ok for all of us to be human, to have good and bad days, and to support each other along the way.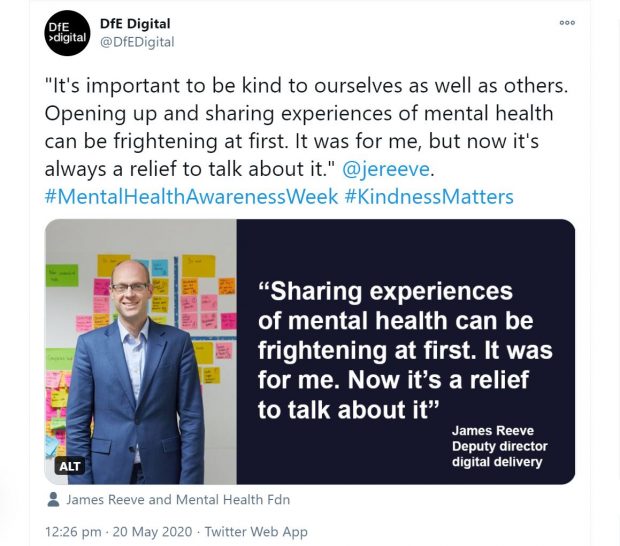 A great example of this supportive culture is my colleague Jen Halmshaw, Deputy director for Digital and remote education strategy, winning a DfE award after being nominated by her entire team.
They described Jen as 'an absolute inspiration' for her approach and steadfast support during a year in which her team has been in the spotlight and under exceptional pressure.
Race
Against the backdrop of COVID in 2020, we experienced the disproportionate impact of the virus on our Black, Asian and ethnic minority communities, and the death of George Floyd in the United States.
This was a deeply painful time, especially for our Black colleagues. For our teams, it sparked conversations about race that were not always comfortable.
This year I have learnt to step into these conversations and to accept that my discomfort is part of learning how to lead for everyone.
We've heard powerful and deeply moving stories from our Black colleagues who have shared their lived experiences of racism. I greatly appreciate every person in our teams who has shared conversations, their experience and reflections on race.
We've made these conversations a regular occurrence, and openly speak about systemic, institutional racism in ways that we should have been for a long time.
We initiated and completed an open consultation about race in our teams, led by colleagues from a range of ethnicities and grades, and have subsequently implemented a race action plan.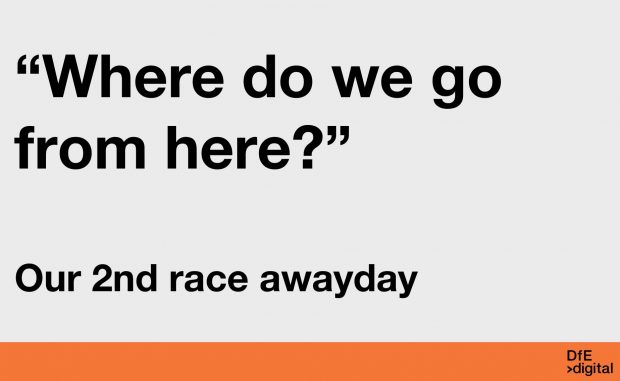 People are asking for fairness and equality: to be seen, to be noticed, to be heard and to have equal opportunity. Black people and people of colour have been in pain for centuries. White discomfort seems a small price to pay.
Growing expertise and professionalism to future-proof us for 2021
In terms of expertise, we've recruited 150 people into digital roles in the last year and 5 months. That's 4,300 applicants and several hours spent sifting and interviewing.
Other than DfE Digital, we're now recruiting into 17 other service areas across London, Manchester, Sheffield and Coventry. Although frankly, speaking about physical locations when we have learnt how inclusive work can be when we all show up online may turn out to be a little 'old school' of us with the future that beckons.
We're slowly growing our Heads of profession community across the department. We have an interim Head of content design, and heads of profession for delivery management, product management, user research and technical architecture all in place.
We're currently recruiting for a Head of design to cover service and interaction design, and a permanent Head of content design.
Our people and commitment to growing specialists is what has enabled us to rapidly design and deliver this year. Of course, there is still so much to learn, things that we need that we wish we had had, and ways of working that still remain immature. However, all the progress we have made will position us to continue responding to COVID-19 and maturing in 2021, all against the backdrop of EU exit.
Looking back over 2020
Perhaps the biggest internal change for our teams in 2020 was the decision to unite Digital and Technology under a single Chief digital technology officer.
We're now five months into that decision and teams are coming together to be a real force for good in 2021. I'll be updating you more on that next year.
For now, I'd like to say thanks for everything you have all done this year. And let's all take the opportunity to rest and recharge. 2021 can wait.