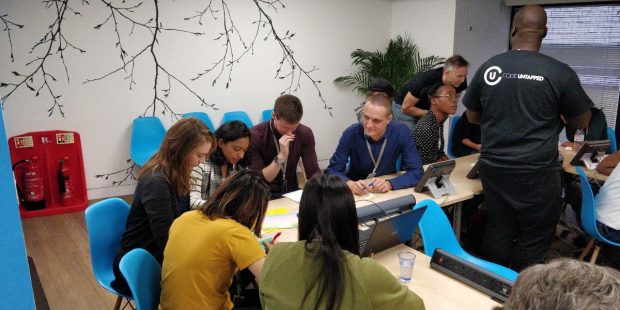 In the Department for Education (DfE) we've been putting a lot of energy into growing our communities ⁠– not just our communities of practice, but also communities that promote equality and diversity in the digital and tech sector. I know from my previous role as Head of people at the Government Digital Service how important diversity is to building an inclusive culture.
Diverse teams reflect the society we live in. They are much richer in terms of insight, there's more healthy challenge, there's a wider range of viewpoints, and they're well known for being more creative and innovative.
We teamed up with eSynergy Solution's community team who introduced us to an organisation called  CodeUntapped. They help make the tech workforce more diverse by giving individuals from underrepresented backgrounds opportunities to solve real-world problems.
We're fully supportive of CodeUntapped's mission so it didn't take us long to decide to co-host a brilliant and inspiring hackathon for 20 hackers from the Black, Asian and Minority Ethnic (BAME) communities.
On a rainy Saturday five CodeUnatpped facilitators, our hackers, and some DfE educational and digital specialists holed themselves up in a room – with plenty of pizza – to explore and design ways to improve a real, live DfE service - 'Find a job in teaching'.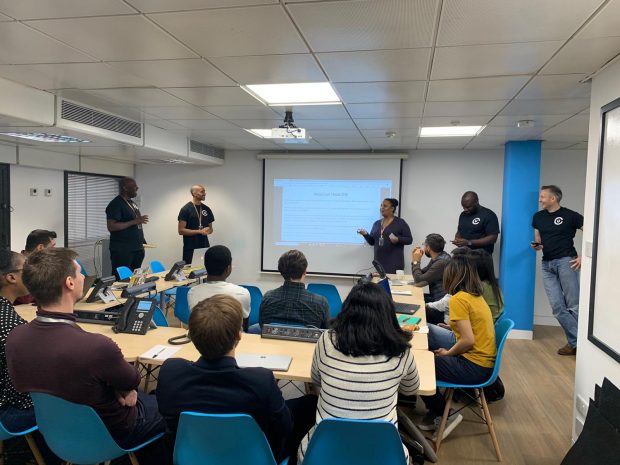 What was being hacked and why
The hackathon challenge was all about making it easier for people to find suitable teaching vacancies online. Our hackers were given the following information to help design their solutions.
We know teachers looking for jobs find it difficult to quickly identify roles relevant to them
Most users start by searching for roles by 'location'
Many users say they would not consider a role if it meant spending more than 45 minutes travelling to work
Over two thirds of users access the service on a mobile device
The winning solutions
There were so many interesting solutions, but two winners were invited to present their products to the 'Teaching vacancies' team: Team North, who put together 'Tinder for teaching jobs', and Team South, who built an analytics platform to help schools understand which adverts were performing best.
The prizes were awarded by a little girl whose mother was there for the day to learn about tech.
What's happened since

The winning teams spent another couple of weeks polishing their products and presentations. They then brought them over to the DfE's London office.
The quality of pitches was outstanding and the hackers gave our DfE team some new ideas to think about.
Team North put together a really slick product demo while Team South turned the problem on its head and thought about how to make schools better at hiring.
We made the point of giving rich and thorough feedback to each member of the team – we know it's the best way to learn and we hope it will help them in future pitches.
And as you'd expect, everyone got a sticker.
With diversity comes creativity
It was a mixed and super-enthusiastic crowd. There were people of all ages from graduates upwards, and the vast majority of people were BAME or non-British.
There was a very positive energy in the room which was full of excitement about solving a real-world problem and being able to learn from one another.
This event was a great reminder of the creativity that diversity can bring – both by bringing people from different backgrounds together and getting out of the government mindset when solving problems.