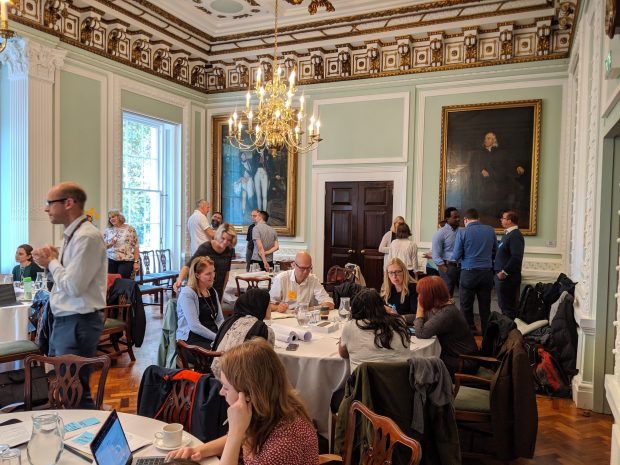 Service owners are integral to DfE fulfilling its ambition to make things better for the people we're here to serve. And it's therefore essential that we strengthen our community of service owners to grow, support, mentor and collaborate with each other.
In this post we'll tell you more about why and how we're doing this. We'll also explain what the service owner role itself entails and the benefits and challenges service owners face.
A service owner's role is working out what users need, and then making sure the service and policy meet those users' needs. This is something our Permanent Secretary, Jonathan Slater, has written about before. That's why we're fostering a growing stronger community of DfE service owners.
We held our first community of practice awayday
Our recent away day in central London brought our community of practice together for the first time. It was inspiring to have such a collaborative group of people working together to help us develop as a community.
Most importantly it was a diverse group of people and it was well attended, there was a buzz in the air and everyone was very willing to dive in and contribute. It gave us the opportunity to talk through some of the challenges we all face, and to suggest ways of helping define and solve them.
We have lots of services that meet lots of different needs
The DfE runs many different types of services. These range from the National Retraining Scheme, to Apprenticeships, to the National Careers Service, to Teaching Vacancies, and Schools Performance.
The DfE also is the funding body for educating people from their birth to 18 years old. Some of these services we've run for decades, some are just months old.
A service owner brings policy and delivery closer together
The sheer variety of services run by the DfE creates a challenge for us when we try to define service ownership. We want a definition that covers all the different types.
Broadly speaking, it's the service owner's role to bridge the gap between policy and delivery. They should be focussed on working for the user. And we think the best way of doing this is by bringing policy and delivery closer together, through the role of the service owner.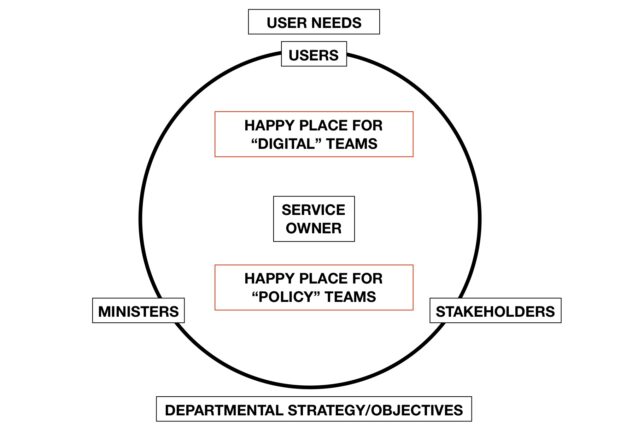 A great career opportunity
We think medium and large services are sufficiently important to have senior backing - they should be run by service owners working at senior civil servant grade.
But we need to be mindful that service ownership is quite new as a discipline, and traditionally the way to high achievement in the civil service has been through policy roles. So to ensure services have the appropriate backing and that we're attracting the best talent to these roles, we need to map out, define and communicate attractive career routes.
Common problems
Some challenges come up again and again, for example how to manage software delivery within the department's current organisational structure. Or how can we work better with our commercial colleagues to get to great outcomes that support services.
How to share and promote our work
We also need to find the best ways of promoting our work and sharing knowledge across our community. We're not alone here - communities of practice across government have experienced this before - communities of developers, content designers, and user researchers. We can learn from their approaches, but we'll have to find our own answers.
How to work better across different sites and cities
Another recurring issue is how to do co-location well.
Like our users, our team is spread across the country, which means we have to work harder, and think carefully about how we build and sustain our community of practice.
We're not alone in facing these problems, which is heartening. We have a lot of work to do, but the benefits of service owners coming together as a group to discuss and solve common issues are already becoming clear, even at this early stage. For example, we agreed that more experienced service owners would mentor those who are newer to the profession so that we can spread our knowledge.
Join us
As ever, we are keen to work in the open, and would like more people to join this project to build a community of service owners, solving our common problems, and better defining our roles. If you're interested to find out more, or take part, let Ash Stephens know.