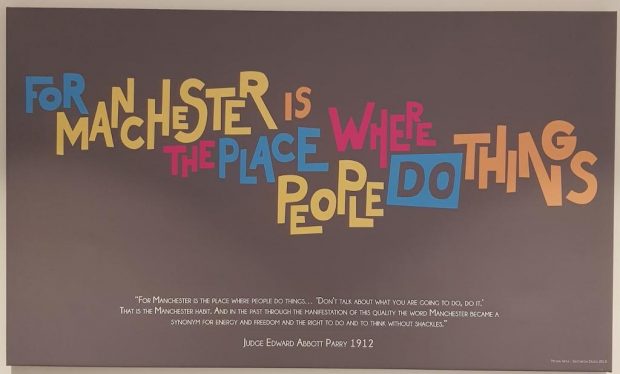 Here in the DfE Digital office in Manchester we're growing our team. We've been hiring delivery managers, product managers, designers, researchers, content designers and developers to work in multidisciplinary teams.
Some of these posts are being advertised right now and we'll advertise others in the coming weeks and months.
The people who take up these positions will work with policy professionals and analysts to design, build and run brilliant services here in the great city of Manchester.
If you'd like to find out more about the roles, meet the team and find out how we work and what we do, we're hosting an open day on 9 July. You can sign up here.
We're here to serve our users

To help adults and children reach their full potential we design and deliver brilliant services for them. Many of our users have an ongoing relationship with DfE that can last for long periods of time, often years.
We need to think beyond just building digital products and transactions. We want to consider the longer term experience of our users over time and build stronger relationships with them. This will give us richer insight and a deeper understanding of their changing needs. That insight will enable us to get better and better at supporting them to achieve their goals.
Here are some of the services we run and things we do in our teams.
Our Get into Teaching Service inspires and supports potential teachers to explore and succeed in a career in teaching.
The National Retraining Scheme supports people to retrain to meet the needs of the future economy.
DfE's User Centred Design Lab is a multidisciplinary team that works with the department's policy makers to understand the needs of their users and explore innovative solutions.
Our culture matters to us, a lot
So what is it that makes our Manchester office so special? Our culture is incredibly important to us. We're fostering a working culture focused on making excellent services with users' needs at the heart. And we believe agile methodology and rapid, iterative delivery of services is the best way to do that.
Meeting and listening to more of our users in their schools, colleagues or code clubs is something we're very keen to do. Similarly we'd like to host our own code clubs, communities and groups here at our offices.
Critically, we're not afraid to innovate or try new ideas.
If you've got thoughts on how we can create a more collaborative culture between us and our users, I'd love to hear your ideas.
Developing our people is our priority

We don't expect everyone who works here to be an expert at all things digital. So we've been thinking about how best to grow and develop our people. Here are some of the things we've started doing to make that happen:
we're working with the Makers Academy to run a developer apprenticeship
we're recruiting people to junior roles and they will be supported to learn on the job
we're building professional communities (for example our design community and our product people community)
actively support each other and share our skills, insight and learning
I moved to Manchester from London because I'm excited about what we can do for our users. I hope to meet you at our open day. If you can't make it and you're interested in any of these roles, please get in touch.
Follow Jack Collier and DfE Digital on Twitter.

Sign up to receive our blog posts.